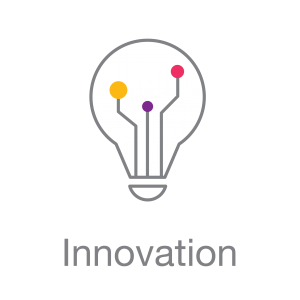 At Global IQ Group, we love innovators and innovation. We believe that everyone has the ability to innovate in their business with the right support and resources.
Global IQ Group brings together world-class talent in a down-to-earth 'roll up our sleeves' style. We help navigate your pathway to success by:
We advocate the use of design thinking to help get your team to understand, ideate and transform your business through innovation.
Design Thinking is a well-established methodology. In the first stages, we help you empathise with your customers to understand their pain points and needs, then framing the problem in such a way that you can clearly define the real issues and develop solutions that address them.
The insights generated during the initial stages leading to a range of potential solutions that can be explored further. We help your team generate ideas, find the data to inform those ideas and ideate ways to transform that data into solutions.
Finally, we help your team imagine how those solutions impact your business and generate the story and ideas into prototypes that can be tested and refined. The solutions generated are powerful and transformational and have the support of all team members involved in the process.
Design Thinking is an iterative process of divergent and convergent thinking, facilitated by our experienced staff and focused on developing a customer-centric outcome for your business. This process is supported by a stage-gate approach to product and service development that ensures you maintain control of your processes, your budget and remain focus on outcomes.
Our process will help you:
Understand the specific needs and pain points facing your customers
Develop products and services that address your customer's pain points, creating shared value for you and your customers
Clearly articulate your message to your customers through creative storytelling and engaging content
Take your product or service from idea through commercialisation to market, using evidence-based data in all stages of decision making
Our skill set includes:
Scoping studies and research through desktop and interview methodologies
Workshop planning including staff and key stakeholder interviews, briefing papers and agenda setting
Design Thinking workshop facilitation
Challenging the status quo with a data-driven approach
Mapping innovation
Incubating ideas with research, development and testing
Commercialisation
Marketing support including storytelling and collateral
Understanding compliance, standards and regulation
Ongoing support and monitoring
To explore how Global IQ Group and a design thinking approach can assist you to reach your innovation goals, contact our Innovation Principals – Liza Taylor or Nathan Groenhout.